2021 Dragons' Chamber Finals
Dragons' Chamber is a community event with the purpose of helping foreign entrepreneurs in Taiwan to get the exposure they need to grow their businesses. We also want to help the Taiwanese society see what wonderful things and services are being created by foreign residents.
After a 3 month long process of auditions and feedback on business plans and presentations that started with 20 companies applying, the Dragons' Chamber 2021 Pitch Finals took place on November 20 in front of a record size, standing room only, audience. The First Prize Winner as picked by our 5 Dragons turned out to be MangaX, a company that gives schools and their students the tools to deal with emotional distress.
First Prize: MangaX – https://www.mangax.co
Second Prize: Flight Path Immigration – https://flightpathimmigration.com/
Third Prize: 3Square – https://3squarekitchens.com/
Shared Fourth: Stride – https://loveyourstride.com/ and Startup In Taiwan – https://www.startupintaiwan.com/
Read more info about each Dragons' Chamber 2021 Finalist here.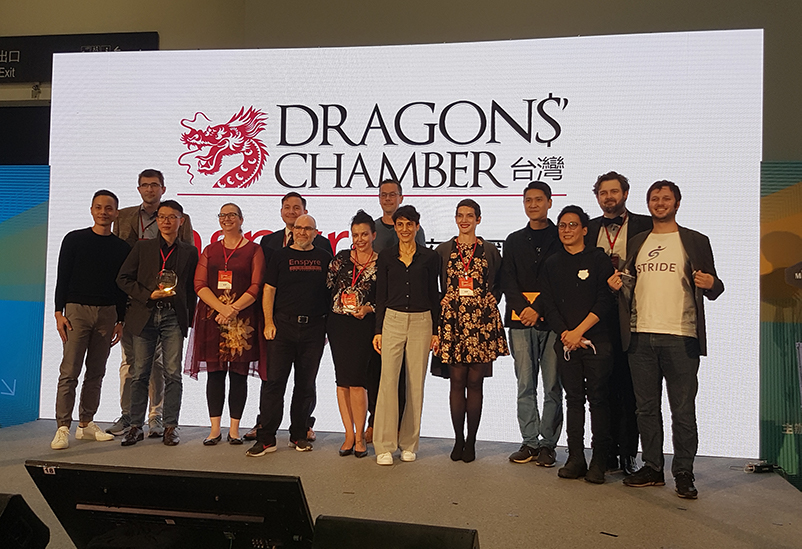 Our Dragons
This year we sported not just 4 but 5 great Dragons. Tammy Pan and Ian Huang are both early stage investors on behalf of their respective angel funds. Torbjörn Nordling is a Swedish professor who is a prolific angel investor using his own money. Elias Ek is Dragons' Chamber co-organizer, sponsor, entrepreneur and angel investor. Revital Golan is a very experienced entrepreneurs and have been on our panel since the very beginning. Read more information about our Dragons here.
As each team presents, each Dragon rates the team on 10 criteria with a score from 1 to 5:
Appropriateness of funding sought
Is the idea fully formed?
Strength & depth of the project team
Experience of applicant in the relevant field
Is there a clear business model in place?
Are the financial projections realistic?
Are the regulatory & technical hurdles manageable?
Has market research been conducted?
Effectiveness of the presentation
Overall feasibility of the project
These numbers are then added up and if there are no ties, the ranking stands. Some years two teams get the same score and the dragons have to discuss how to sort it out but this year the numbers were very clear.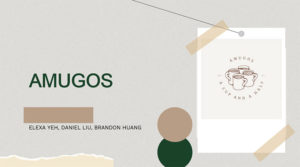 While the the numbers were being tallied and the Dragons' regrouped, the audience were treated to a pitch from a team of high school students from the Dominican International School. Under the leadership of Mercia De Souza, Dominican offers a 2-semester long course in entrepreneurship and for the last few years Dragons' Chamber has given them a mini-Dragons' Chamber experience. This year they had 4 student teams and Dragons picked Amugos, a group that make and sell custom mugs, to present on the big stage.
After the event, a member of the audience walked up to the students and ordered 200 mugs! Goes to show that as an entrepreneur you have to dare to stand up to be noticed to find opportunities.
Since not everyone could make it to Meet Taipei in Nangang, it is great to be able to offer a live-stream of the event. Eddy Gonzales from Eddy Live and Vincent Lovell helped us get great video and audio out to the world. 
Dragons' Chamber 2021 Prizes
For the teams, the most important take-aways from Dragons' Chamber is the feedback they receive on their business plans and presentations and of course the recognition and exposure. But starting a new business takes a lot of resources so getting some free or discounted products or services does not hurt. Our sponsors are coming through big time with lots of great prizes:
First Prize Winners MangaX Wins:
Service fee-free Taiwan & discounted China trademark application from MUSA Trademark
NTD30,000 B2B Telemarketing Services Voucher From Enspyre
3 months hot desk from Futureward
A 20% discount for bookkeeping services for one year from Grant Thornton
Hour and a half consultation session from Anemone Ventures
Half-day brand strategy diagnosis with consultants from Geber Brand Consulting
1 book, How to Start a Business in Taiwan from Enspyre
One free individual membership in Canadian Chamber of Commerce Taiwan
Second Prize Winners Flight Path Immigration Wins:
Discounted Taiwan & China trademark application from MUSA Trademark
2 months hot desk from Futureward
1 book, How to Start a Business in Taiwan from Enspyre
Free Phone Answering Services for 3 months from Enspyre
One free individual membership in Canadian Chamber of Commerce Taiwan
Hour and a half consultation session from Anemone Ventures
Third Prize Winners 3 Square Wins:
Discounted Taiwan & China trademark application from MUSA Trademark
1 months hot desk from Futureward
1 book, How to Start a Business in Taiwan from Enspyre
Free Phone Answering Services for 3 months from Enspyre
One free individual membership in Canadian Chamber of Commerce Taiwan