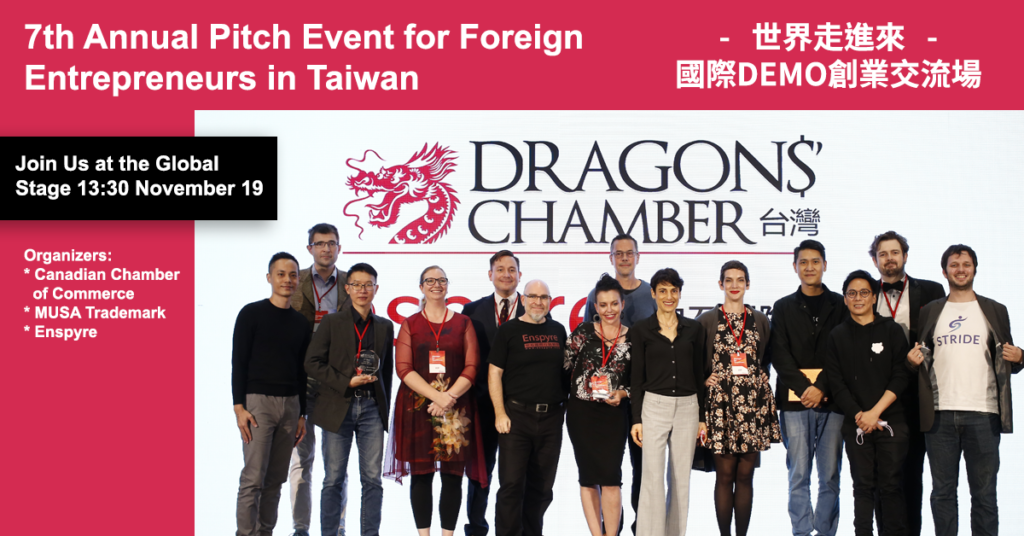 November 19, 13:30 Global Stage
Meet Taipei
EXPO Dome
No.1, Yumen St., Zhongshan Dist., Taipei City 104, Taiwan
The event was a HUGE Success! Read about it here.
Hike Right
Hike Right is a Taiwan-based outdoor apparel and equipment company focused on creating high performance gear that is not only affordable, but environmentally friendly. Founded by Adam Massingale, an American outdoor and adventure enthusiast who started his business in Taiwan after he fell in love with the Taiwanese mountains.
Founded in July 2021, Hike Right is now looking for an investment to supercharge their growth.
Adam says participating in Dragons' Chamber so far has been amazing even though "it was a bit daunting to get everything prepared in such a short time, the feedback I received from the Dragons was enlightening. Thank you all for putting this opportunity together!"
Adam tells us he is honored to call Taiwan home and we are honored to have him as a finalist. Come and see the pitch on November 19 at 13:30 on the Global Stage at Yuanshan EXPO Dome.
https://www.hikeright.tw/
https://www.facebook.com/hikerighttw/
DD Walk
DD Walk is a free fitness app that uses gamification to motivate users to walk and be more active. They reward users by offering digital money that can be converted into cash, donations to charities, or lottery tickets.
Walkers can also earn extra cashbacks by shopping at partners' stores. The goal is to encourage people to be more active and explore new places around them while contributing to the local economy and reducing their carbon footprint.
DD Walk was founded by Pierre from France who has lived in Taiwan for five years. After working as a General Manager at another Taiwanese startup for two years, he decided to realize his dream and start his own business.
Taiwan is like most countries in that people are getting heavier and unhealthier. Walking is simple, accessible, and one of the easiest ways to get more active, lose weight and become healthier. It also generates zero CO2 emissions, which can help people in Taiwan lower their average carbon footprint.
https://www.dd-walk.com/
https://www.facebook.com/ddwalk.tw
Lone Star
Lone Star is a supplier engagement solutions company for international clients. They help clients work with suppliers to keep hardware development projects on track by checking schedules, costs, and inspect assembly lines. Lone Star leverages their relationships with semiconductor companies to locate hard-to-find components and recommending qualification and reliability tests to reduce risk.
Founded in 2015, Lone Star has now settled on a profitable business model based on institutional knowledge, relationships and SOPs. They now need to raise funds to invest in marketing.
American founder Kara says "I'm a former space shuttle engineer who has always worked in high tech fields. My former employer, Texas Instruments, frequently sent me to Taiwan, China, Japan and Korea. Taiwan is a great place to live if you want to be close to the best manufacturing technologies. I truly enjoy working in Taiwan so I've made it my home.
I am very glad to participate in this event. I'm learning how to improve my business and am excited about 2023. I sincerely appreciate the honest feedback."
https://www.lonestartech.tw/
https://www.facebook.com/LoneStarTechnologyTaiwan
Fluhm
Fluhm's mission is to enable the adventure-utility lifestyle with approachable, versatile, and affordable electric two-wheelers. Fluhm's first product is an off-road electric utility motorcycle called Trucker targeting the billion-dollar American market. With an adjustable seat height and smaller wheels, Trucker feels familiar like a bicycle, is friendly like a scooter, but has hill-climbing capability of a motorcycle all while remaining quiet and emissions-free. Fluhm Trucker is the "Goldilocks" motorbike for the American outdoors.
Fluhm now needs to raise money to complete its concept phase in 2022 with the aim to go to market in Spring 2024.
Andrew, Fluhm's American Founder, says about Dragons' Chamber; "For our company, the timing of the event was a great match. We were right at the juncture of transitioning from concept development to "going public" in search of partners and funding. Honestly, we were quite inexperienced with business pitching coming into the first audition and Dragons were respectful but direct in their evaluation. Since then, our pitch deck and our clarity of messaging have made leaps forward with each iteration."
Couchspace
Founded by Taiwanese-Canadian entrepreneur brothers, Frank and Daniel, Couchspace is an app that provides meditation and online counseling to help people relax, focus, and sleep better.
They started their business in Taiwan because of the lack of mental health awareness. 2.8 million Taiwanese suffer from mental illness but Taiwan's budget for mental health is less than $1 USD per person annually, which is 1/10 compared to other developed countries.
They believe Couchspace will help individuals find inner peace and improve mental health awareness to the general society.
Frank states that "The feedback that Dragons' Chamber Taiwan gave was constructive, practical, and invaluable. They helped us understand what investors are looking for and gave us clear guidance on what should be improved!
Taiwan is our home as well! We hope, through this app, we could provide a feasible & professional solution toward mental health issue and help push mental health movement in Taiwan."
https://www.thecouchspace.com/
https://www.facebook.com/thecouchspace